KDE Promo Activity Report – September 5, 2017
In this first report we look at what happened during the 2017 Randa Metings, what was organised for the Qt World Summit, news about the KDE website re-design, and how the Librem 5 smartphone campaign (of which KDE Promo and Plasma Mobile are active parts) is going.
---
Hello, and welcome to the first KDE Promo Activity Report!
If you have been following the kde-promo mailing list, you might have noticed that the activity on it has decreased recently.
This is mainly because KDE Promo is now using Phabricator to track and manage its ongoing activities – as we announced a while ago.
For those of you who are not fans of Phabricator, we've prepared this report to keep you in the loop. The report lists the major activities that the KDE Promo team has been busy with in the past couple of months. Associated Phabricator tasks are linked in the subheadings, so you can see what we have been working on in more detail.
So, what's currently going on in KDE Promo – and how can you contribute?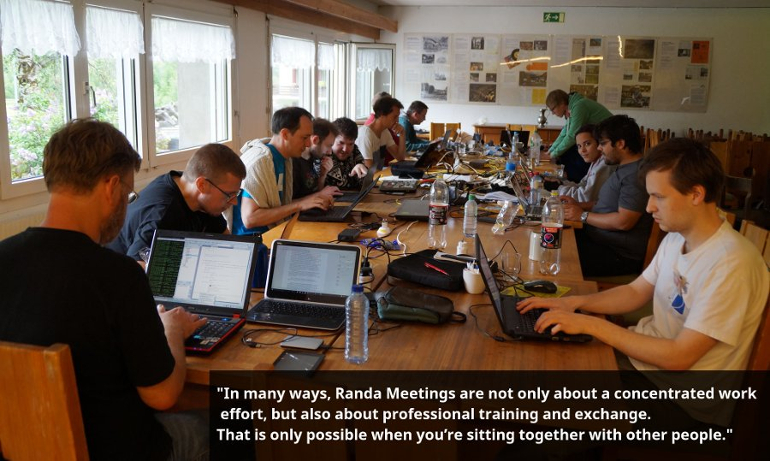 As you've probably heard, we're trying to promote Randa Meetings and successfully complete the fundraiser. As things stand now, sadly, the latter is probably not going to be achieved, unless a generous corporation or a rich YouTuber decides to support #Randa2017.
But let's not give up yet! Here's what you can do:
post about Randa Meetings and the fundraiser on your social media accounts – use the #Randa2017 hashtag
post about the Randa fundraiser in online communities – forums, subreddits, Facebook groups… – that are dedicated to accessibility or improving UX in general
write a story for the Dot – about accessibility in general (what it means, why it benefits everyone and not just people with disabilities); or about Randa Meetings in general (history, how it began, what's been accomplished in previous years); or about your own personal experience with accessibility on computers.
This is a big upcoming event that KDE will attend. It takes place in Berlin, Germany from 10th to 12th of October 2017.
Planning for the setup and decoration of KDE booth/space at the event is already in progress (see comments on Phabricator), but you can chime in with your ideas.
If you'll be in Berlin on those dates, you can also sign up for booth duty, or offer some other ways to help with representing KDE at the venue.
A major overhaul of the official KDE website is in progress. The website will not only be visually redesigned, but will also switch to a new CMS (namely, WordPress).
You can leave your comments and suggestions for the design – but also for the content! – of the new website in the comments on the task linked above.
This is a very important long-term issue for KDE Promo, because we have to find a way to track data from KDE's social media profiles. It's unfeasible for a single person to do this manually, so we need to agree on a tool.
You can suggest tools and methods for this in the comments on Phabricator.
Please read through previous comments to avoid repeating the same suggestions.
A brand new task – so fresh you can almost still smell the paint! If you're interested in smartphones and want a bright future for Plasma Mobile, this is the task for you. It's an ambitious plan to help the Librem 5 crowdfunding campaign AND promote Plasma Mobile.
What you can do:
join the discussion on Phabricator – read the comments, add your own suggestions
get ready to write some content. This is a task that will require a lot of written content, so you can start collecting ideas and preparing drafts
if you enjoy creating graphics more than writing, take a look at linked visual materials in the task, and see how you can make them better, or make new ones
if you don't really like writing, but don't mind translating what others have written, that's cool, too! You can look for websites and communities in your language that might be a good target for this campaign. Then, once we have written the articles and blog posts, you can translate and post them there to spread the word.
Lydia has invited us all to propose goals for the future of KDE.
If you have some ideas on how to evolve the KDE Community that are not necessarily tied to KDE Promo, write them down, refine them, and post them to the task linked above.
Proposals are accepted until the beginning of October.
You can also join an existing proposal that's close to your heart – or close to the idea you were planning to post.
---
How to Join KDE Promo
Do you want to contribute to KDE, but don't know how to code? You can help us spread the
word about our software and attract more users to our community!
If you'd like to join KDE Promo, you can:
1) subscribe to the kde-promo mailing list and send an introductory email
2) join the #kde-promo IRC channel or the Telegram group and tell us a bit about yourself
Let us know what you're good at and what you would like to do for KDE Promo.
We'll find tasks for you and help you get started!
Before closing this report, another quick piece of information.
These days, a lot of the conversation around KDE Promo happens on the #kde-promo IRC channel, which is bridged to the Telegram group. Feel free to join either if you haven't done so already.
The discussions there are, naturally, somewhat different than on the mailing list.
They're much more fast-paced, the subject can change quickly, and offtopic chat is relatively common.
Still, we're making an effort to note down important pieces of information, ideas, and plans, and transfer them to a more permanent place (such as Phabricator) for everyone to see.
We hope this report brought you up to speed with the latest activities in and around KDE Promo.
If you found this useful, please let us know. Likewise, if you don't like this format, or think it can be improved, don't hesitate to send your feedback.
Thanks a lot! 🙂
---
This report was originally published on the kde-promo mailing list. We are sharing it on Planet KDE for those who might be interested in promo activities, but are not yet subscribed to the mailing list.