The Booth at Akademy-es/OpenSouthCode
There's no better measure of success than having a diminutive eight-year-old girl demand to know the name of the painting program she has been using for the last 20 minutes.
"Krita!" I shout over the din of the kids excitedly milling around the KDE booth at OpenSouthCode/Akademy-es.
"Is it web?" she yells back.
"No. You download it. I'll give you the address." Scribbling krita.org on a piece of paper, I warn her not to use "free" web applications. I hand her the note. "Here. It's free."
"Yes. You said that three times". She grabs the piece of paper tightly, lest she lose it, skips over to her dad and drags him off to an Arduino robotics workshop.
More than the talks, more than the ponderous discussions about the state of Free Software with the IT professionals who had gathered in Málaga for the event, it was the unfiltered and raw excitement of children that gave me the clearest insight into what a promotional booth should be about.
At one point, the line of kids wanting to try Krita was getting longer and longer by the minute, with more children joining and hanging around than leaving.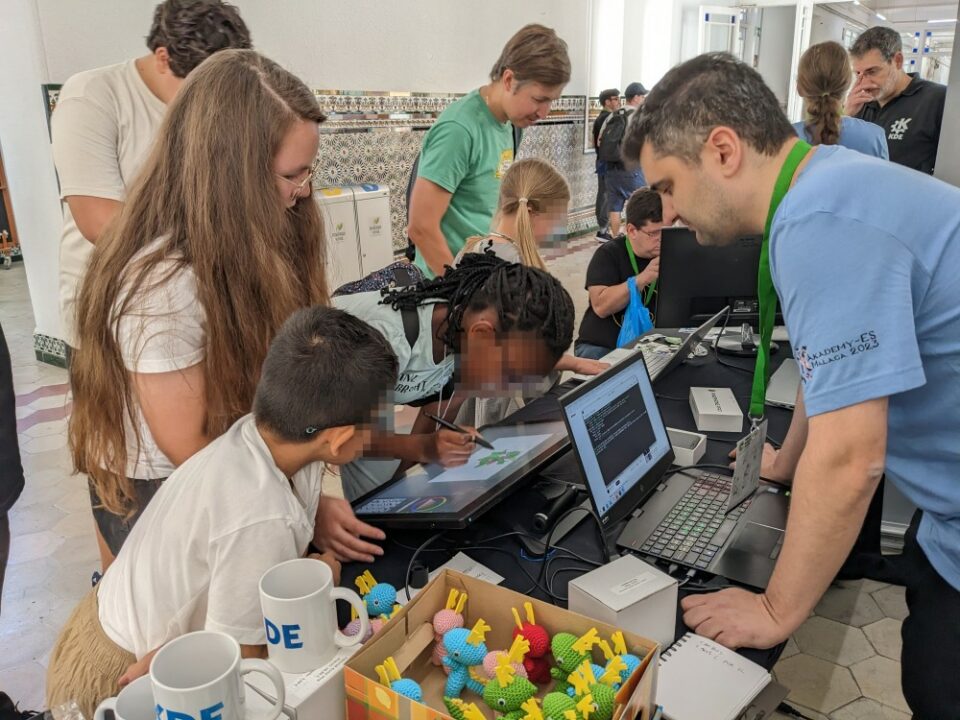 Well… I say "line", it was more of a melee of unruly tykes jostling to see what was going on. Eventually, we had to put a time limit on the activity: "You have ten minutes to draw Konqi. Here's your pen. Go!". Otherwise, we risked a mutiny.
Younger siblings, pushed out of the way by their older brothers and sisters, played with Gcompris on another computer, or crowded around a second monitor we had set up to show what was happening at the main event. Some toddlers dragged their little fingers across the glass, tracing the images, under the impression that the screen was tactile (it wasn't), and that they too were drawing. Bless!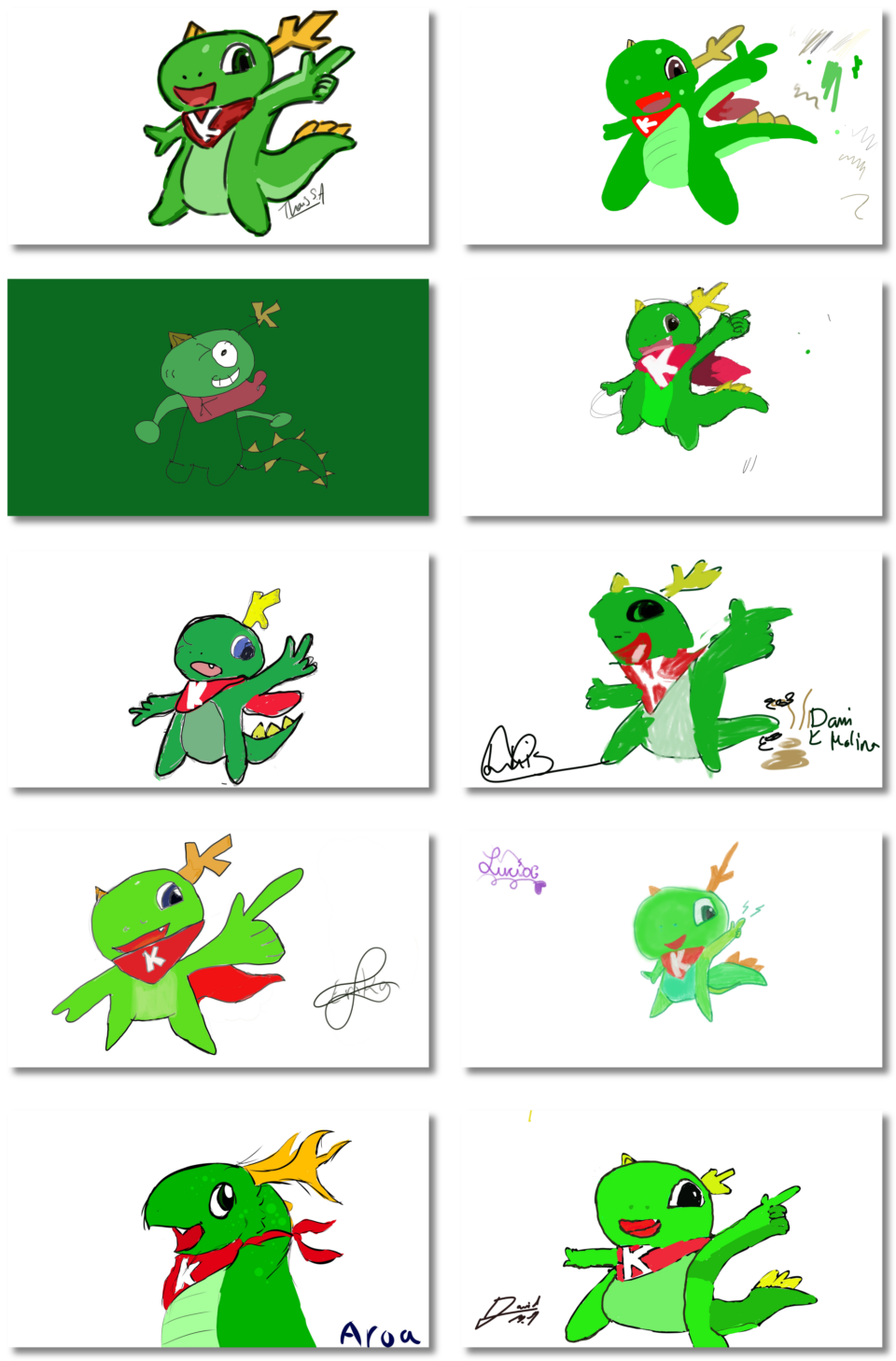 This was on the Saturday. Friday, had been quieter, as adults are essentially kids, but with embarrassment added.
The grown-ups who dared try out the software, did so as a polite person would try samples in a supermarket: with restraint. They drew a few curvy lines on Krita; opened, and then closed apps on the Steam Deck; scrolled the apps page up and down on Plasma Mobile, and poked around in GCompris.
They then seemed to feel obligated to give feedback on their "experience", as if they were in therapy, awkwardly praising the software.
So we talked about their jobs and hobbies instead. People love talking about themselves, and four relieved professional educators from Barcelona opened up about how they had been provided with laptops running Windows. When they asked whether they could have them refitted with Linux, the IT department refused. The four looked it up in the internal rules manual, found that they were within their rights to demand Linux-powered machines, and went back to IT. The IT people admitted this time that yes, they could have Linux laptops, but they would have to make do with four old, beat-up, bulky and barely functional 10-year-old machines from when La Generalitat (Catalunya's regional government) was still actively promoting Linkat. At that point, our heroes, gave up and just installed their favourite flavours of Linux themselves.
Then there was the developer and KDE fan who had been asked to speak at the event. The CTO had pushed a brand new Macbook into his hands because Big Boss didn't think Plasma would look cool enough in front of potential customers while he was setting up his slides… At an event called OPENSouthCode.
Or the accountant who took an in-house course on cybersecurity at work. The trainer had spoken about open source in such glowing terms and passion that he had piqued the accountant's curiosity, and she was attending OpenSouthCode to find out more.
The point is, as long as you have time, you can develop a rapport with visitors. Let them talk (and vent) more than you do, and they will open up. More often than not, you can find out which KDE tool will work for them.
The education experts, for example, were creating training videos and had heard of Kdenlive, but hadn't used it to any extent. A quick demo and an explanation of the new features, especially the Whisper subtitling system, won them over. They left talking excitedly among themselves about how they would also be pitching Kdenlive to schools in the region.
Sometimes the answer to "How can KDE help this person?" is in plain sight. The Mac-saddled developer was carrying around a bulky camera and was clearly enjoying taking pictures of the event. He was only vaguely aware of digiKam but never got around to trying it out. We fired it up with a bunch of photos. When he left, he was convinced he needed to give it a go.
Other times all you can do is point in the right direction. The accountant was considering buying a laptop with Linux, but was put off by the idea of a completely alien interface. A few minutes on one of the plasma-powered machines convinced her that that would not be a deal-breaker. Having a default layout that resembles that of a particular proprietary OS is not always a bad thing.
There is no doubt that the booth was a success. The footfall exceeded our expectations, although admittedly the context helped a lot. Organising Akademy-es as part of a broader open source event, with fun activities for kids, outreach talks for adults, and more specialised technical talks for IT professionals, gave us the best of both worlds: a space for community building and bonding with our own talks and activities, and plenty of opportunities to reach a wider audience who had probably never heard of us or our software.
Lessons Learnt
A booth with lots of interactive things is a popular booth.
Preparation is important! Make sure you have a wide range of applications installed on your demo machines.
Also make sure you have projects to load into the applications so you can demonstrate the features of each application.
You need to be happy to let people touch your stuff.
Having something for people to do will appeal to a wider and more diverse audience than show-and-tell.
Speaking of diverse… Want a diverse crowd at your stand? Give them something creative to do. At Akademy-es 2023 it was a Konqi painting competition (80% girls participated). At FOSDEM 2016, a hardware vendor had a soldering class with some cute Tux PCBs and they attracted lots of young people of all genders.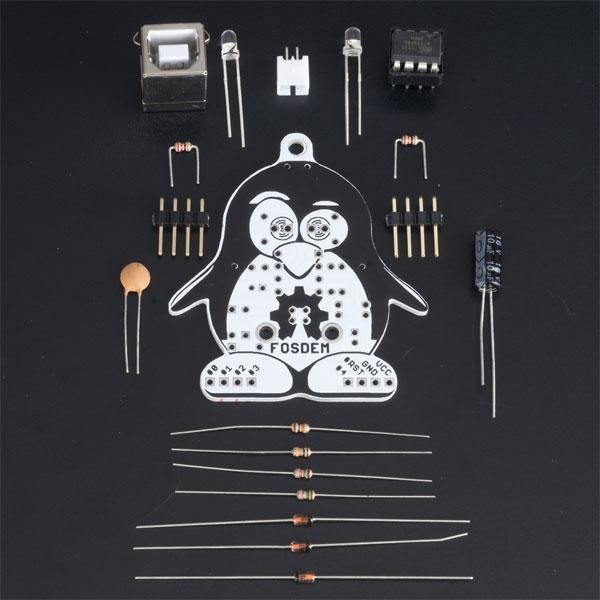 Attendees don't seem to care about freebies (stickers, pens, mats – for mice, beer, or anything else) as long as there are participatory activities. However, make a point of giving them free stuff with your web address on it.
Have cute mascots like Katie, Konqi and all of the other friendly KDE dragons!